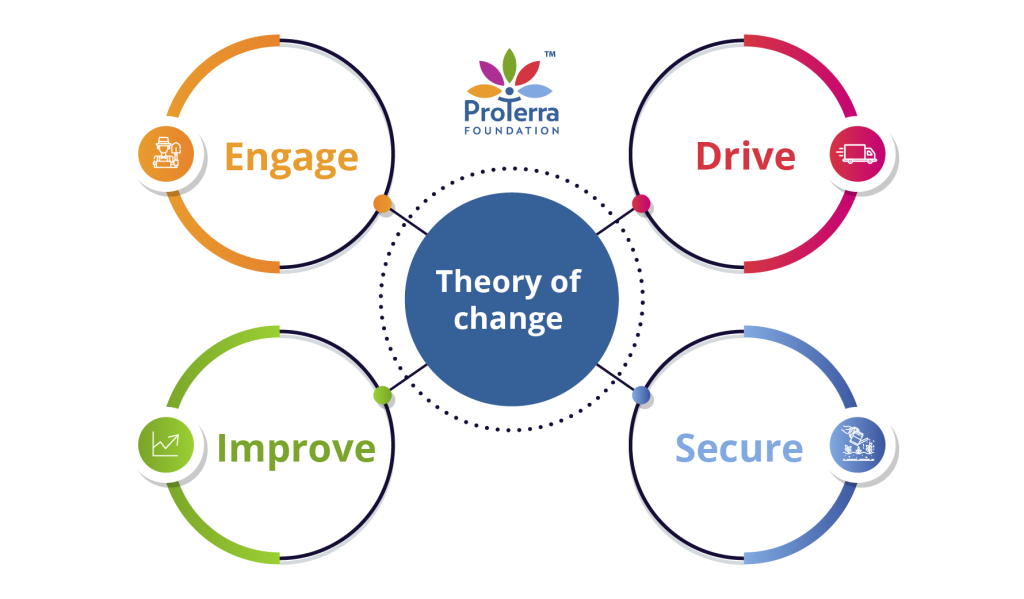 ProTerra has developed its Theory of Change that is available on the ProTerra Foundation´s website. It is focused on mapping out what, how and why the implementation of the ProTerra Standard can lead to changes in the behavior of stakeholders and in this way support achieving sustainability goals.
The Theory of Change forms the basis for the ProTerra Monitoring and Evaluation framework, keeping track of progress and ensuring continuous learning and improvement. Proterra's Theory of Change is embedded in the concept of continuous improvement of the social, economic, environmental performance of farmers, traders, transporters, and processors as well as in the improvement of Proterra's operations overtime.
ProTerra has identified the following main trails to impact stakeholders and move towards its goals:
Engage farmers, including smallholders, to improve social, environmental, agricultural practices and economic aspects of their activities (farmer impact trail);
Improve the ability of traders, dealers and carriers of the food/feed supply chain to enhance social, environmental, and economic performance (dealers and transport impact trail);
Improve the ability of food/feed processors to enhance social, environmental, and economic performance (processor impact trail);
Drive supply chain improved performance creating mechanisms for supply chain actors to support their suppliers (buyer impact trail) and;
Secure the supply of traceable, healthy, and non-GMO ingredients/ products delivered to society (consumer impact trail).
The Theory of Change has been discussed with the Certification and Standards Committee, the Stakeholders Council (representing the overall views and contributions of stakeholders) and was ratified by the Board of Directors.
The document is open to stakeholders' comments that will be taken into consideration in its review, foreseen for June, 2022.
If you have any suggestions or comments, please send an email to: info@proterrafoundation.org.
ProTerra Foundation's Certification and Standards Committee will review and reply to all emails received. After summarising the comments, the CSC will prepare a written synopsis of how each topic has been addressed (or not) in the Theory of Change, make the synopsis publicly available, and send it to all parties that submitted comments.
We look forward to receiving your feedback.