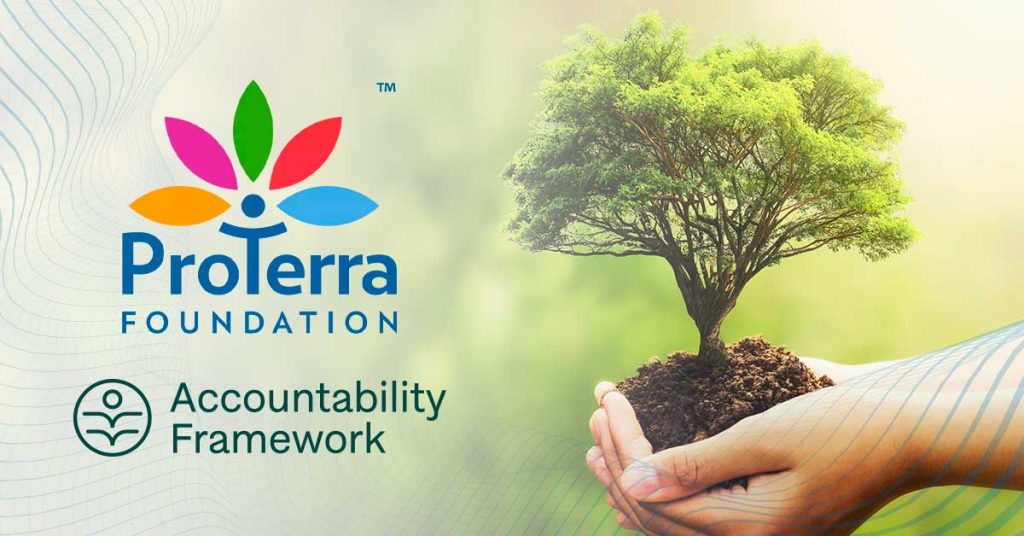 Companies working to improve supply chain sustainability need clarity on how different tools and standards relate to one another. To help meet this need, the ProTerra Foundation has collaborated with the Accountability Framework initiative (AFi) to benchmark the ProTerra standard (version 4.1) against the Accountability Framework. This analysis confirmed broad alignment between the two initiatives as well as opportunities for companies to use the ProTerra standard and Accountability Framework in complementary ways to meet their goals.
The Accountability Framework initiative (AFi) is a global coalition of leading NGOs working together to accelerate progress and improve accountability for company efforts to protect forests and natural ecosystems and to safeguard human rights in agriculture and forestry supply chains. In June 2019, the coalition launched the Accountability Framework, a set of common principles, definitions, and guidance to support companies in setting ethical supply chain goals, taking action on them, and reporting on progress.
A founding principle of the AFi is to complement, support, and improve alignment among existing sustainability tools – including certification, reporting systems, and others – not duplicate or supersede them.
The benchmarking analysis demonstrated that the ProTerra standard and the Accountability Framework are aligned in many important ways – for example on the topics of prohibiting deforestation and conversion and respecting the rights of workers. This alignment helps clarify market expectations and good practice for responsible supply chains. The ProTerra standard and the Accountability Framework are also complementary and can be used in tandem by companies to establish and implement robust company-wide policies to eliminate deforestation and ecosystem conversion, and to respect human rights, in all commodity production and sourcing.
For more information on specific points of alignment and complementarity, see the ProTerra section of the 'Related Initiatives' page of the AFi website. The ProTerra Foundation and AFi are also exploring opportunities for further collaboration to support companies on their journey toward responsible supply chains.