ProTerra Foundation is a non-for-profit organisation, which's mission is to be a global network of businesses supporting more sustainable agricultural practices in the food and feed supply chains. The ProTerra Foundation owns the ProTerra Certification Standard, that has a set of requirements associate to sustainable agricultural practices, workers health and safety, human rights and environmental protection. ProTerra Standard also supports the use of non-genetically modified (GMs) seeds and the full respect of communities' rights and dignity.
But why should one adopt and certified against ProTerra Standard?
Certification under ProTerra Standard contributes to empowering farms and businesses throughout the food/feed supply chain, to become vectors of environmentally and socially responsible business practices and to provide valuable information to consumers to help them make informed and sustainable decisions over what they consume. This is an important differentiator in a competitive market like the one of agricultural commodities and premium food products or crops such as non-GMO Soy.
Additionally, ProTerra requirements are very strait forward, written in a simple language and serve as a solid foundation as starting point in the sustainability journey of companies. This has been a feedback received by current users of the Standard!
Proterra Foundation also offers support materials such as papers, webinars and training courses to help organizations understand the requirements of the Standard.
Through a ProTerra Certification, products are eligible to use ProTerra Seal or labels. These are the mean by which brands can communicate the non-GMO and sustainability commitment directly to consumers and stakeholders. Final consumers are assured that all products featuring the ProTerra label were produced in a sustainable and traceable manner and meet our non-GMO requirements, despite the differences of a given country where the product is sourced.
ProTerra certification cover topics such as:
Protection of high valued biomes;
Protection of the rights of communities, indigenous people, and smallholders;
Promotion of good labour practices such as workplace safety, equal opportunities, and particular attention to preventing child, forced labour and aspects associated to modern slavery;
Promotion of good agricultural practices, particularly regarding soil fertility, water management and continuous efforts to reduce the use of fertilisers and pesticides;
Provides a list of banned pesticides (pesticides that may not be used should one seek ProTerra certification);
Protection of biodiversity, particularly through rigorous Non-GMO requirements, and
Traceability and Chain of Custody. Traceability enables the market to have a full view over a product's journey, making it possible to identify if and where GMOs were used.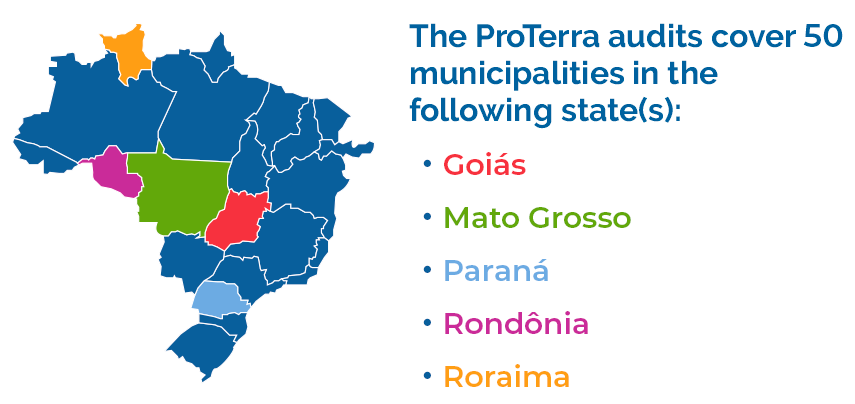 For more information on ProTerra Foundation and ProTerra Standard, please visit our web page: www.proterrafoundation.org .