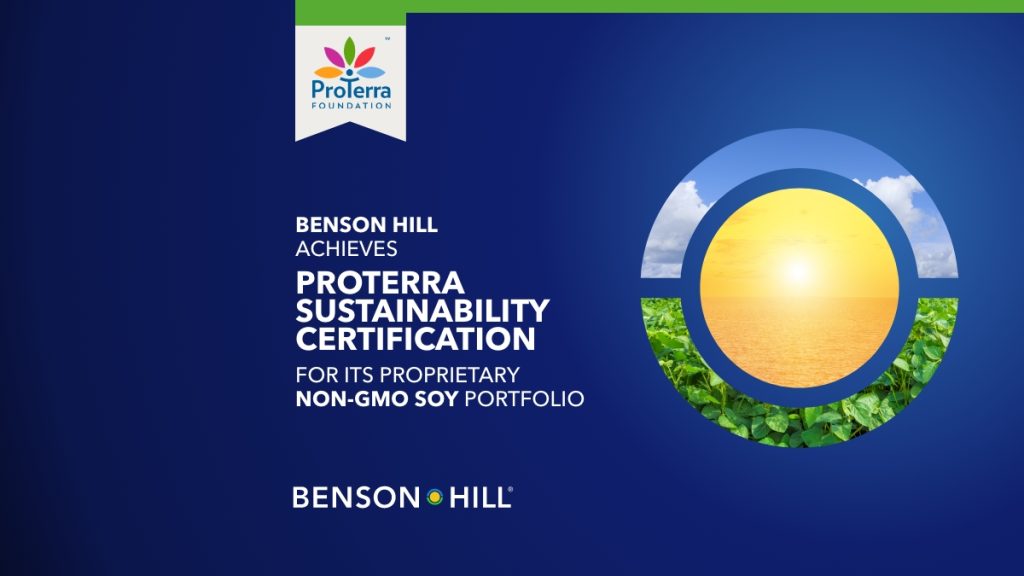 Benson Hill, a food tech company unlocking the natural genetic diversity of plants, became one of the first U.S.-based ingredient providers to verify its sustainable practices and achieve ProTerra Certification.
Throughout an extensive certification process, Benson Hill completed audits of its Creston, Iowa, and Seymour, Ind., plants as well as two shipping ports that store and transport its non-GMO soymeal. Benson Hill also partnered with its growers to conduct several on-farm visits. These in-depth audits examined data related to identity preservation along with deforestation practices, biodiversity efforts, and other Environmental, Social and Governance (ESG) metrics such as fair labor practices.
"I am delighted to welcome Benson Hill as a ProTerra Network Member. This certification demonstrates their engagement to continuously improve agricultural practices and achieve full transparency in the food supply chain," said Emese van Maanen, Managing Director for the ProTerra Foundation. "Collaboration with farmers is essential to developing long-term relationships that create benefits from plant to plate."
"Through our journey with ProTerra we gained important insights to solidify our position as a global ingredients company focused on responsible growth," said Andres Martin, Executive Vice President and General Manager, International for Benson Hill. "Achieving the ProTerra certification standard is a testament to the ESG principles guiding our work to sustainably deliver our non-GMO soybean portfolio to markets within and outside the United States."
The ProTerra standard, against which organizations are certified, is based on the Basel Criteria for Responsible Soy (created by Coop Switzerland and World Wildlife Fund). Today the standard is applicable to all sectors of the food and agricultural system worldwide and at all stages of the food chain. In addition, ProTerra certification ensures that high quality supplies of crops, food, and feed, that are independently certified as non-GMO and produced with improved sustainability, are available on the global market. Benson Hill's proprietary soy ingredient portfolio, designed to meet specific end uses with less processing and increased traceability, is currently available in North America and in Europe.

Benson Hill built its closed-loop business model on sustainable design and systems thinking, which means its products deliver benefits across the entire value chain, from seed to plate. For example, CleanCRUSH™ ingredients derived from the company's proprietary soybean genetics are designed as a less-processed alternative to commodity soy protein concentrate (SPC). CleanCRUSH ingredients can also reduce the need for costly energy- and water-intensive protein concentrating steps traditionally required for plant-based protein and aquaculture feed applications. In SPC comparisons, this can result in up to a 50 to 90 percent reduction in CO2e, depending on the ingredient source, and up to a 70 percent reduction in water usage.
For more information about Benson Hill's progress in assessing impact and setting the pace of innovation in food, visit www.bensonhill.com or download its inaugural Environmental, Social and Governance (ESG) Report.