Recent studies carried out in Austria and Germany have shown some changes in consumer behaviour and attitude, especially regarding grocery shopping. Besides freshness, good pricing, high quality and animal welfare, it seems that consumers are also very concerned about food security, social sustainability and GMO-free agricultural production, looking out for labels they can trust. Some market research studies analysed if consumers would be willing to pay a higher price for environmentally and socially sustainable, GMO-free products.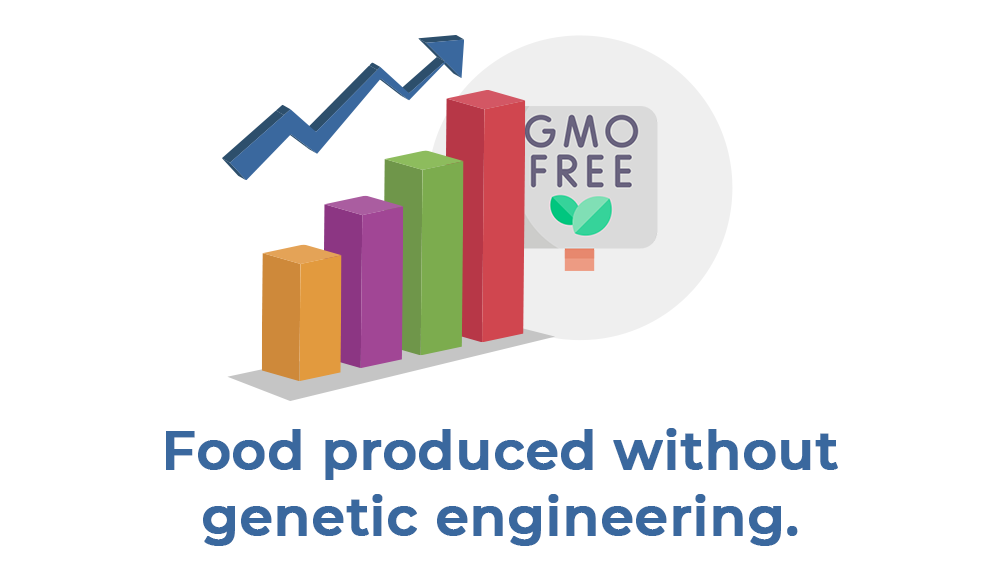 In Austria
Austria's consumers do not want food from new genetic engineering.
Verified GMO-free food with the green quality label "Ohne Gentechnik hergestellt" ("Made without GMOs") has become an important success factor and quality standard for Austrian products.
This was also confirmed by a recent market research study named "Shopping behaviour and attitude to genetic engineering" carried out in October 2019[1]: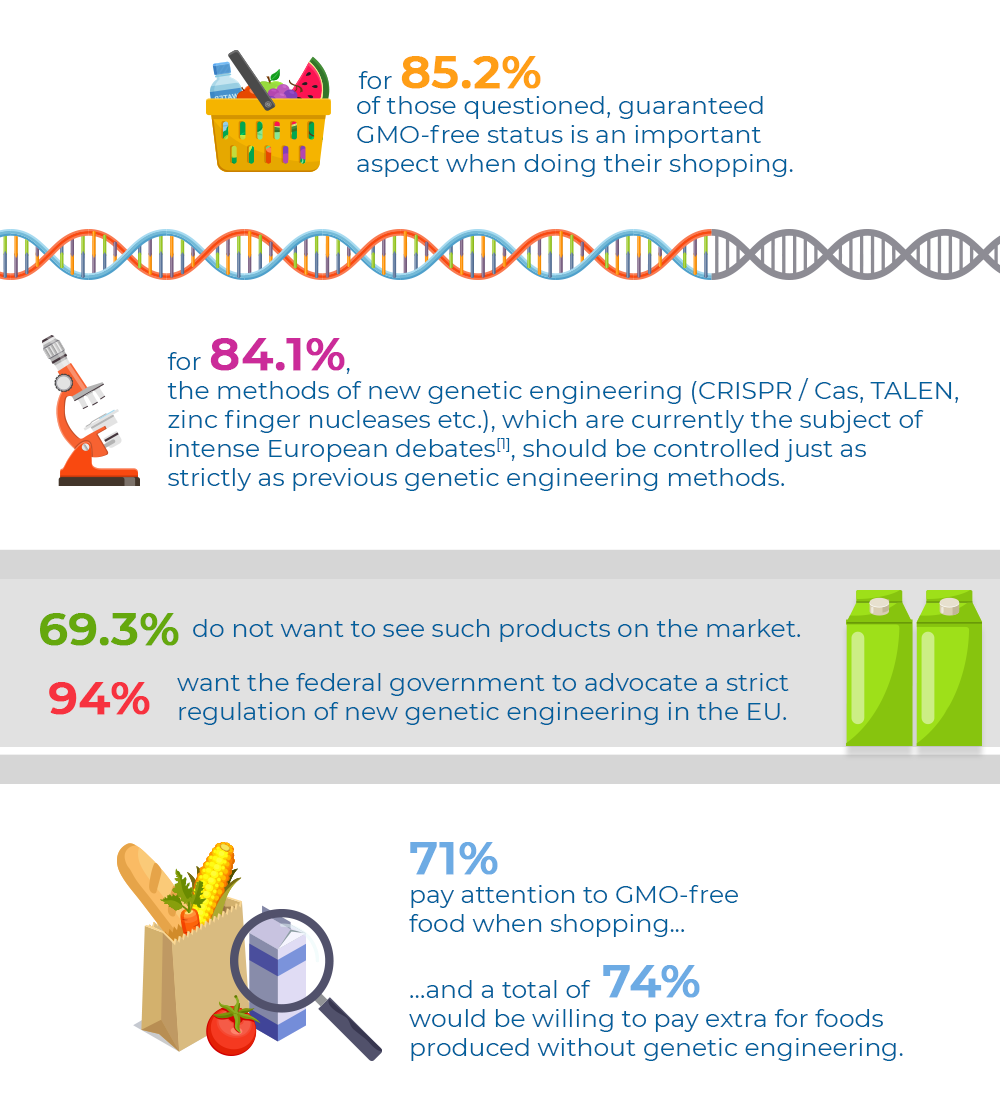 The full market research study, in German, is available for download here.
In Germany
In Germany consumers substantially demand non-GMO food. The German Association of Food without Genetic Engineering (VLOG[3]) currently represents their interests, as well as, agricultural producers, food manufacturers or retail chains promoting GMO-free food. When buying products that carry the "Ohne GenTechnik" (Non-GMO) seal consumers will be assured that the following set of criteria is met: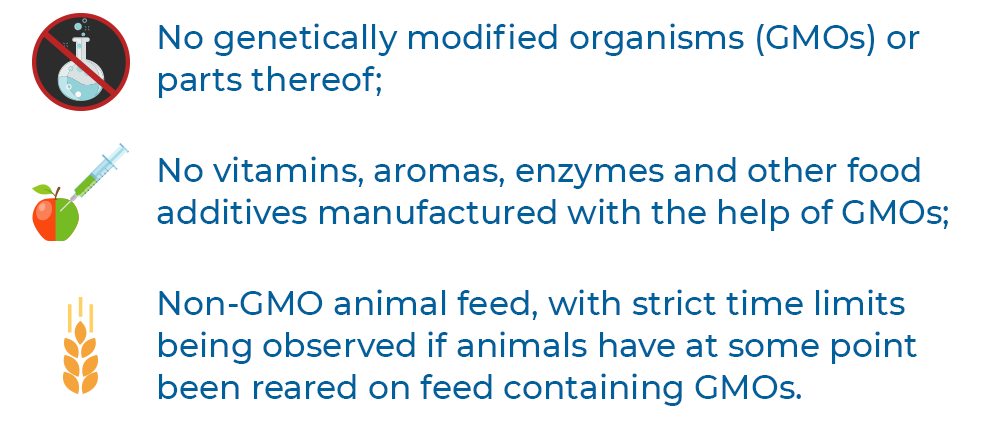 Is food security important to consumers?
Since May 2017, a group of experts from WWF[4], Welthungerhilfe[5] and the Centre for Development Research (ZEF[6]) has been working on the establishment of a Food Security Standard (FSS) aimed to test the set of food security criteria in regions with high levels of food insecurity, such as Africa, Latin America and Asia. As part of the accompanying research on the FSS, the project conducted a short study to investigate if sustainability standards and food security affect German consumer behaviour. [7]
Among the conclusions, the study showed that consumers are generally willing to pay more for certified sustainable production. "The more knowledge the respondents have about sustainability and certifications, the greater is the willingness to pay" [8]. It was also found that overcoming hunger in cocoa production is very important and that there is a clear willingness to pay for food security.
In 2018, around 1.5-1.7 billion euros were generated with food produced without genetic engineering in Austria. In 2019 in Germany "manufacturers and processors achieved a turnover of around 8.8 billion euros with goods carrying the "Ohne GenTechnik" (no genetic engineering) seal. Compared to 2018, this represents an increase of 15 percent, reports the German Association of Food Without Genetic Engineering (VLOG)". [9]
Although the studies shown in this article refer to Austria and Germany, GMO-free food production has established itself in Europe as an important quality standard and economic factor far beyond these two countries. Labelling systems for food without genetic engineering are now available in many countries.
ProTerra Foundation is aware of these new trends and, as a non-GMO sustainability standard, our role is to ensure that more high-quality supplies of crops, food and feed, that are independently certified as non-GMO and produced with improved social and environmental sustainability, are available in the market.
[1] http://www.gentechnikfrei.at/studie-gentechnik-freie-produktion-wichtiger-faktor-beim-lebensmitteleinkauf
[2] https://www.proterrafoundation.org/news/european-union-debate-on-genome-editing/
[3] https://www.ohnegentechnik.org/home/https://www.ohnegentechnik.org/home/
[4] https://www.wwf.de/
[5] https://www.welthungerhilfe.org/
[6] https://www.zef.de/
[7] https://www.welthungerhilfe.org/landingpages-en/food-security-standard-project/
[8] https://www.welthungerhilfe.de/fileadmin/pictures/publications/en/fact-sheets/topics/2020-fact-sheet-8-Is-food-security-important-to-consumers.pdf
[9] https://www.agrarzeitung.de/feedmagazine/feedmagazine-news/vlog-without-genetic-engineering-sales-continue-to-grow-91070