After a historically low production of below two million tons in the 2021/21 crop, the new non-GMO soybean crop is expected to yield more than 4 million tons. The state of Mato Grosso alone planted nearly one million hectares of conventional soybeans. Favourable weather conditions are pushing average yields to somewhere between 3.6 and 4 tons/ha – with high-performing farms getting close to 5 tons/ha.
High-performing non-GMO varieties – which have only recently come onto the market – play a key role in the auspicious scenario. Insects, Asian rust, and nematodes are some of the pests and diseases to which the new genomes are less vulnerable to the breeding of such high-performance seeds started 10 years ago. New non-GMO varieties also include early maturing seeds. Unlike from most of the world, Brazil enjoys multiple crop cycles within a year, due to exceptionally favourable moisture levels and sunny, mild winters. Cotton, which can be produced in sequence with soybean crops, enjoys a more favourable rain window if planted the soonest after soy is harvested. For instance, the Araguaia Valley, in Mato Grosso, clusters many non-GMO farmers alternating between soybean and cotton crops.
As the efficiency of GMO-associated chemicals decreases, mostly due to the growing weed resistance, the availability of new non-GMO seeds bearing different traits to fight pests and weeds has grown, as the new breeding developments reach the market. The resistance to glyphosate, for instance, has turned commercial crops into weeds to the sequential culture. Multiple crop management in Brazil involves mainly soybeans and corn. GM corn kernels that fall to the ground during harvest will grow indifferent to glyphosate sprays and compete for nutrients and sunlight with the subsequent soybean crop. Resistance to glyphosate has also spread beyond lab-engineered plants, creating weeds immune to herbicides. It is not a coincidence that the two most used chemicals in Brazil are glyphosate and 2-4,D. Facing the growing weed resistance to Glyphosate, 2-4,D has been increasingly used in combination to improve efficiency.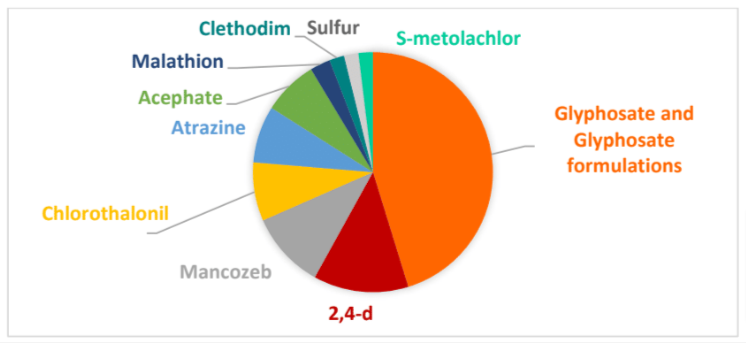 Source: IBAMA Data Update: 15/Aug/2021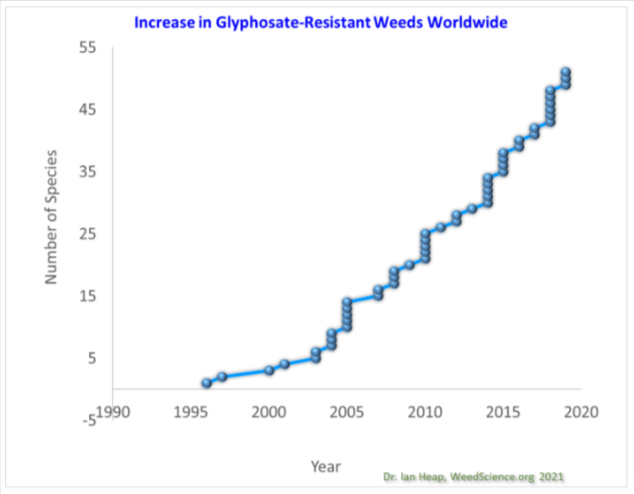 Resistance to water stress and extreme temperatures, pests and diseases, the new non-GMO varieties launched recently carry many of the features promised by the GM technology, bearing a much lower risk of developing resistance to weed and pests. More importantly, the most effective way to control threats to crops is a holistic perspective, where plants will develop stronger defensive systems to better fight antagonists. Farm monitoring has benefited from recent technologies such as satellite and drone imaging. Drones can also be used for localised pest control strategies. Commercial GM technologies are almost exclusively based on the use of herbicides or insect-killing agents. Glyphosate, the pilar for more than 80% of the GMOS, is a non-selective systemic herbicide that allows for intensive spraying, whereas conventional crops demand monitoring and localised application.
Logistics for non-GMO flows also see a favourable moment. Terminal 39 has just completed a major overhauling at its port elevation structure in Santos. With new silos providing additional storage, state-of-the-art ship loaders, exclusive rail manoeuvring yards, head shunts for dedicated operations, and improved docking berths, T-39 has received major investments to improve its capacity and meet the demand for non-GMO export operations.
Additionally, the conflict in Europe increased energy costs, making processing in Brazil an attractive alternative compared to crushing in the EU.
At the European level, new regulations have been passed to fight climate change and biodiversity loss. Under the new legislation, companies must ensure that products sold in the EU are not connected to deforestation and forest degradation. Trading companies will have to provide EU authorities with relevant information, such as geo-location coordinates, and monitoring checks with satellite imaging tools. Companies must also demonstrate that these products comply with local regulations of the country of production, including human rights, and the rights of indigenous people. Penalties for non-compliance shall be proportionate and dissuasive and the maximum fine must be at least 4% of the total annual turnover in the EU of the non-compliant operator or trader.
Non-GMO suppliers in Brazil, operating under certified traceability/IP programs for decades, have all the tools and protocols in place to comply with the new legal requirements.
Despite the still negative numbers linked to deforestation, Marina da Silva, Congresswoman and one of the country's most prominent environmentalists has been appointed to lead the Ministry of the Environment and Climate Change, a clear sign of the new government's determination to end deforestation in the country. Marina da Silva has already raised significant funds from the German and Norwegian governments to fight the destruction of the Amazon biome.
The new government has reinstated all actions and law enforcement initiatives to protect the environment which were in place under Marina's last term (2003/2008) when deforestation rates dropped 83%.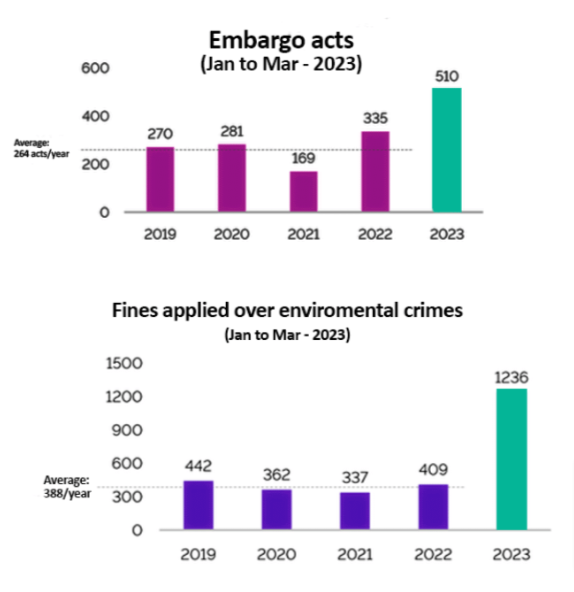 In general, the supply of non-GMO soybean requires committed long-term buyers. Spot opportunities outside the consolidated certified production of non-GMO have produced destructive blows to a whole chain of committed farmers and exporters who have invested heavily in the sector. Shipments from less predictable origins have damaged frame agreements between Brazilian consolidated producers/exporters and their historical buyers in Europe, besides the possible linkage to environmentally unsustainable practices.
References