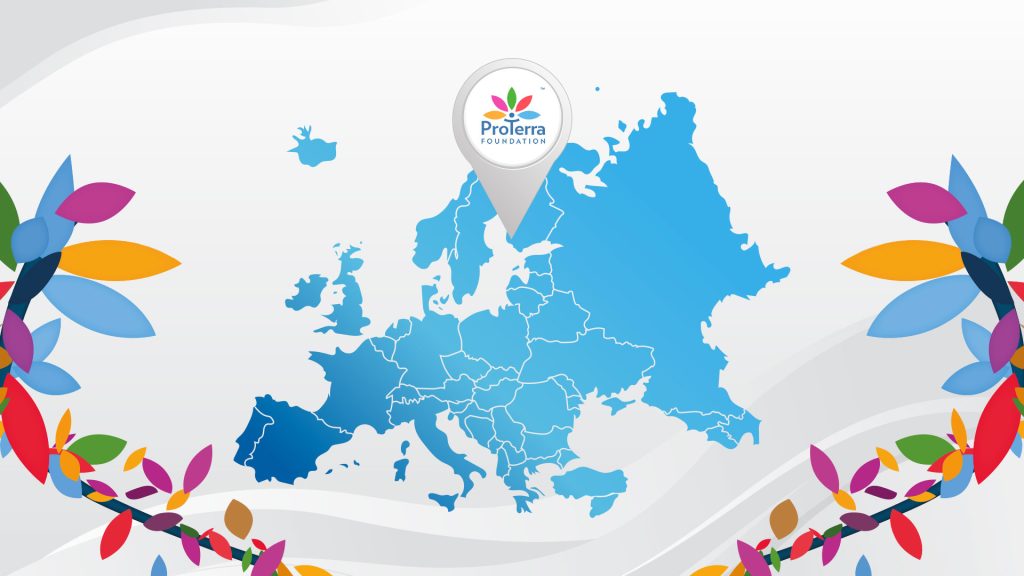 The ProTerra Foundation can help to provide reliable, certified raw materials from Europe to compensate the shortage of protein plants by providing the ProTerra Standard to continental Europe. Our goal is to create market-oriented solutions instead of restricting options.
The Foundation has created the European Interpretation of the ProTerra Standard aiming to help businesses engage on local markets, and to support the improvement of local agricultural practices so that stakeholders can gain confidence in products coming from crop producing areas, such as Eastern Europe. We believe that 'local' is not per se sustainable and assurance is needed to protect our environment, ecosystems and the society we live in and may be negatively influenced by incorrect agricultural practices.
The ProTerra European Interpretation has been developed with the following goals:
Support stakeholders gain confidence in the practices associated to products coming from European regions with a different reality from theirs;
Help businesses engage and implement a sustainable approach in their entire supply chain;
Foster good agricultural practices;
Secure the supply of sustainably produced, traceable, non-GMO ingredients for feed and food;
Protect the environment, and
Promote that workers and communities are treated with dignity and respect.
Taking the different European realities into consideration, the European Interpretation of the ProTerra Standard has been developed focusing on the risk of the different countries. The risk assessment is based on both the potential presence of GMO in a crop and the potential of negative environmental and social aspects of agricultural activity. This approach reduces costs and audit burden for organisations in low risk countries, while assuring due care in organisations operating in high risk countries.
At the same time, food and feed companies can fulfil increasing market demand for European, non-GMO and sustainable products.
ProTerra Europa certification covers topics such as:
Promotion of good agricultural practices, particularly regarding soil fertility, water management and continuous efforts to reduce the use of fertilisers and pesticides;
Promotion of good labour practices such as workplace safety and equal opportunities;
Protection of biodiversity, particularly through rigorous Non-GMO requirements;
Traceability and Chain of Custody: traceability enables the market to have a full view over a product's journey, making it possible to identify if and where GMOs were used;
And many more…
Why are we facing a shortage and high premiums this year?
We can notice a decrease of non-GM production in Brazil in the recent years. For instance, the state of Mato Grosso, the main soybean producer in the country, has reached a historic low production of non-GM soybeans last year. The main causes include the increasing risks, lack of long-term commitments and premiums to farmers. Commercially speaking: the non-GM premium prices were not attractive enough to compensate the risks and in many areas soybeans were replaced by other crops, such as cotton.
Looking at other origins, such as the US, soybean prices are likely to rise on high exports, tight stocks[1] as US farmers already sold the projected exports. Besides, we see in China a swine recovery, also boosting soy demand.
We can observe ending stocks at 7-year low, supporting price increases and the US – China trade deal is still uncertain[2].
Given these astonishing facts, it is our duty at the ProTerra Foundation to keep the positive agenda moving forward. We are committed to the protection of biodiversity, full transparency and traceability, besides promoting and ensuring that sustainably produced non-GMO food and feed products are independently certified, and available on the market.
How can ProTerra create solutions?
The ProTerra Standard is applicable to all crops, helping to compensate shortages and to provide sustainable raw materials in all times.
The multi-crop and global aspect of the ProTerra standard supported by the benchmark process helps to:
Reduce the number of systems needed to be operated by supply chain actors;
Simplify procurement policies and practices;
Embrace mutual recognition and synergies wherever applicable. These synergies aim to reduce costs, audit burden and complexity on all levels of the supply chain and to encourage cooperation.
The ProTerra Foundation's mission is to be a global network of businesses supporting more sustainable agricultural practices in the food and feed supply chains. Visit our website to find out more: www.proterrafoundation.org
---
[1] https://www.spglobal.com/platts/en/market-insights/latest-news/agriculture/122220-commodities-2021-us-soybean-prices-likely-to-rise-on-high-exports-tight-stocks
[2] China signed the first phase of the trade deal which includes the purchase of $200 billion worth of US goods and services within two years, including agricultural goods worth $80 billion. The slow pace of purchase, combined with trade issues between the two countries, such as intellectual property, makes it questionable if this phase of the US-China trade deal can be fulfilled in 2021.