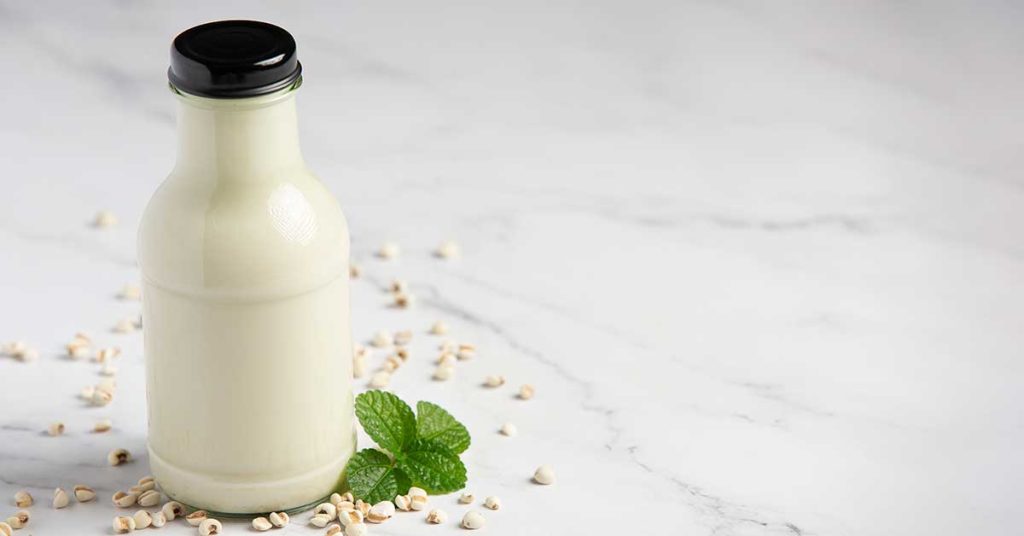 Recent years have seen a surge in popularity for plant-based protein alternatives. A food type that 15 years ago had a reputation for being niche, alternative food with a very select and narrow market appeal, has broadened its reach and become much more mainstream. Every coffee shop worth its latte, offers an oat milk alternative to the dairy standard. And a non-meat burger no longer seems out of place on a burger chain menu. So, what is driving this trend, is it here to stay and what does it mean for sustainability standards such as ProTerra's?
The case for a switch in diet to plant-based food
There is no doubt that there is an urgent need to make changes to how we consume, feed the world's growing population and farm, in order to minimise the damage we are doing to the environment and lessen human-made climate change. A switch to less carbon-intensive protein sources would be a step in the right direction towards more sustainable diets. Increasing consumption of plant-based alternatives, as a protein source, is one way to reduce the impact on the environment of agriculture and human consumption.
Good for people and planet
The science is strong that plants and legumes, as part of a varied diet, are good for your health. Legumes, which are often the base of many plant-based alternative foods are rich in vitamins and low in harmful things like fat and cholesterol. The "Mediterranean diet", one which is traditionally high in plant content, has been shown to: "reduce risk of heart disease, metabolic syndrome, diabetes, certain cancers (specifically colon, breast, and prostate cancer), depression, and in older adults, a decreased risk of frailty, along with better mental and physical function."
On the sustainability front, we know that traditional, intensive agricultural systems can take a heavy toll on soil health and are resource intensive. Plant-based alternatives, if those plants are grown in a sustainable way which does not lead to deforestation or soil degradation, can be a way to lessen agriculture's impact on the planet. A 2022 study from the University of Bath outlined that plant-based alternatives ate "healthier for people and planet". One of the report's authors, explained: "This review demonstrates overwhelming evidence that, as well as being far more sustainable compared to animal products in terms of greenhouse gas emissions, water use and land use, plant-based alternatives also have a wide range of health benefits."
Consumer appetite
Given both the climate/environment arguments, as well as the health ones, there's been a concerted uptick in consumption of plant-based alternatives. According to the market intelligence agency, Mintel "Between 2015 and 2021, the number of new consumer packaged goods launched with a plant-based claim has grown by nearly 700% and accounted for 12% of launches in 2021 (Mintel GNPD 2015 – 2021). It's safe to say that plant-based is now a lifestyle choice, and it's here to stay." Interestingly, while Mintel notes that big food companies and retailers (such as Danone, Aldi, dm-drogerie, Lidl, Tesco, Sainsbury's, Unilever, Marks & Spencer, Woolworths and Kellogg) are the main players when it comes to innovating globally on plant-based/vegan alternatives, they have not increased their share of launches over the past five years, evidencing that smaller start-up brands continue to play a prominent role in driving growth in the vegan food market.
So, what are the alternatives?
Due to their low glycemic index (foods which have a lower effect on blood sugar levels) and high fibre content, pulses and legumes can, as part of a balanced diet, can reduce the risk of developing type 2 diabetes. Eating pulses several times a week also has a positive effect on blood pressure and therefore reduces the risk of heart conditions and strokes.
Milk alternatives, such as soya milk, oat and almond milk has seen a boom in recent years, with many brands becoming fridge staples. This increase in consumption of plant-based milk could have an important benefit for the environment.
It is increasingly easy to find meat alternatives, such as vegan burgers, sausages and other products. These may be made from tofu, beans, chickpeas, peas or other legumes.
They are tasty and may be used to replace meat. Increasing innovation in this market is leading to many new types of, for example, burger alternatives. According to Mintel: "As one of the most popular plant-based products, the high use of burger substitutes has much to do with their availability and the innovations brands have made in both taste and texture. Brands can find ways to stay ahead of the competition by elevating new alternative formats to other types of meat products."
The sustainability question
Plant-based alternatives often trade on the assumption that "plant-based equals green". But this is not such a simple equation. A simple switch to eating more plant-based food is not necessarily always a sustainable choice. There are risks with ramping up production of, for example, soya, as not all farmers are farming soya in a sustainable way.
And, indeed, it has been found that animal rearing has a vital role to play in regenerative farming (a type of farming that aims to boost biodiversity by integrating all of a farm's operations as far as possible). According to EIT (a "food innovation community", partly funded by the EU): "The regulated grazing of sheep or cows, for example, encourages plant growth, and distributes natural nutrients back over the land in the form of dung. Poultry also fertilises land, as well as eating unwelcome bugs and weeds."
Whilst it has been found that greenhouse gas emissions are significantly higher for animal-based food than for plant-based foods. A shift towards more plant-based diets and agriculture must be done in a responsible, ethical way. The risk with boosting, for example, legume production without ensuring certain standards, is that it negatively impacts the environment and biodiversity in vulnerable areas, because of land conversion and deforestation. Poor land management and agricultural practices can compound this by depleting natural resources and soil degradation.
Soya, when linked to deforestation, has a significant negative impact on the environment, given the greenhouse gas emissions that its production entails. But, sustainability labels, such as the ProTerra label, through transparency and the ability to trace beans back to where they were grown, means that buyers and eventual customers have the assurance that their soya (or the end product, e.g. soya milk) is deforestation-free and, therefore both a healthy and environmentally friendly plant-based alternative.
The onus is now on farmers, food producers and retailers to make the most of this consumer trend and ramp up their sustainable production of plant-based foods. But boosting production without the necessary sustainability credentials could lead to a loss of consumer trust; Using sustainability schemes, like the ProTerra Standard to ensure that the green "boxes are ticked", is the seal of approval customers need to see.