The public consultation in relation to the creation of the ProTerra Foundation. Monitoring and Verification Standard (MRV) version 1.0 was open from 02/03/2023 to 02/06/2023. During this period, 100 comments/ suggestions were received.
Of the comments/ suggestions received, approximately 56% were coming from NGOs and 43% were from retailers. Figure 1 illustrates the distribution of the comments received.
Figure 1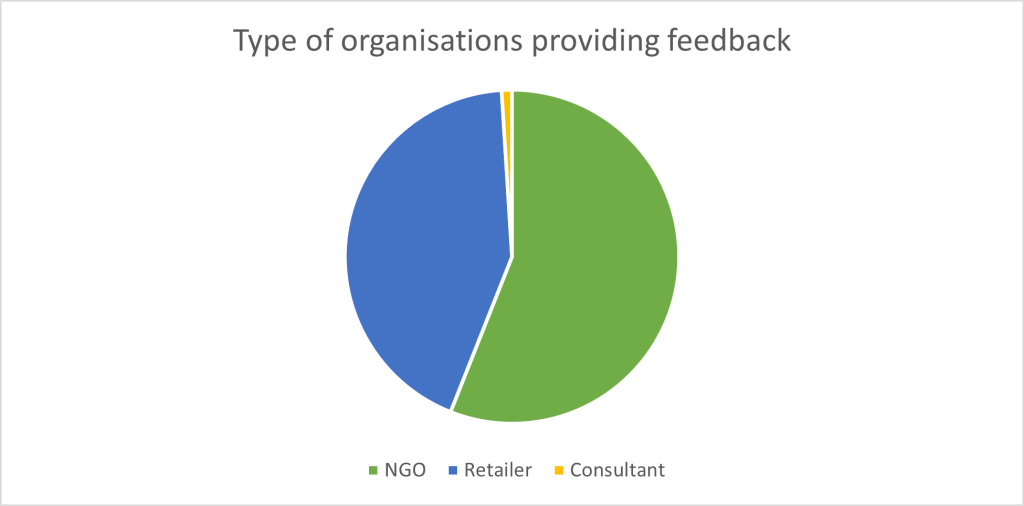 Various themes were received, and no single topic dominated in percentages. However, the comments and questions have clearly pointed out the fact that the MRV, as originally designed, required changes in the wording and structure.
The MRV was originally a program implemented in Brazil as part of a multi-stakeholder effort. Based on the results of the public consultation, it was recognised that transforming it into a global standard would require a more structured approach.
Therefore, the MRV has been fully revised, keeping the objective that it is linked to the verification of the management system of a given economic operator's supply chain in terms of sustainability and deforestation-free raw materials/related products.
A frequently asked question was about the relationship between the MRV and the ProTerra Sustainability Standard. The ProTerra Foundation takes this opportunity to emphasise that the two standards are completely independent of each other and one does not preclude the other.
Several questions were raised about the claims made by the EU Regulation to Prevent Deforestation (EUDR). As a global standard, MRV is not exclusive to EU compliance but still provides an important tool to ensure compliance. Claims are limited to compliance with MRV requirements.
A third relevant discussion topic was proposals to include additional sustainability topics in supplier requirements (e.g., greenhouse gas emissions monitoring, alcohol and drug use policies and procedures, special rest needs of female employees related to pregnancy, breastfeeding, and reproductive health, and employer compensation for additional living expenses resulting from employees working off-site). While all of the proposed topics are important, at this time MRV will focus on compliance with the European Federation of Feed Manufacturers (FEFAC) requirements, with an emphasis on management issues.
The next steps related to the public consultation process and the revision of the ProTerra MRV are:
– The ProTerra committee will discuss all comments received and potential responses to each stakeholder group and implement identified opportunities for improvement, including redesigning the structure and wording of the standard.
– The Board approves or recommends changes to the stakeholder responses and associated changes to the Standard;
– ProTerra Foundation sends responses to all stakeholders who participated in the public consultation;
– ProTerra Foundation posts a summary of all proposals and their respective final responses on its website;
– The final version of the MRV will be published.
This process is expected to be completed by early December 2023.